Server administration for LINUX and WINDOWS
Our company specializes in administering Linux and Windows Server systems. We offer complete configuration and protection against threats such as viruses and hacking. We implement secure logins and active security measures to ensure maximum protection for your data. We also conduct migrations and upgrades to provide the latest and most secure solutions for your business. Our services include a wide range of tools and technologies such as Apache, PHP, SSL, BIND (dns), MySQL, ProFTPD, Postfix, QMail, QPopper, Cron, ISPConfig, PLESK, Docker, Tomcat, Java and many more. Contact us and our specialists will help you choose the best solutions tailored to your individual needs.
Computer networks LAN and WLAN
We use many networks every day, often without realizing it. The most popular of them are the telephone network and the computer network. When the network does not work properly, we cannot use modern forms of communication, which leads to a loss of connection with customers. That's why it's so important to ensure network stability in your company. Don't let network failures negatively impact your business and loss of profits. Take advantage of our services and ensure safe and stable connections. We cooperate with the best manufacturers of network devices on the market: Mikrotik, CISCO, Juniper, Ubiquiti
Email services and Newsletter Systems
If your emails are landing in the SPAM folder and your customers or suppliers can't effectively communicate with you, contact us. We offer comprehensive configuration of mail servers, corporate email domains and anti-spam filters. Our solutions include, among others, configuration of SPF, DMARC, DKIM systems and other solutions. Whatever mail server you have, we will advise you on how to secure your email and bypass the restrictions of the size of single emails. Use our services and enjoy effective and reliable email communication!
VMware Virtualization
VMware ESXi is an advanced server virtualization platform that allows multiple virtual machines to run on a single physical server. Our company offers comprehensive services for installing, configuring, and managing the VMware ESXi platform to help our clients achieve the best results in virtualization. Through our services, clients can gain performance, flexibility, and security for their servers, as well as save on hardware costs and infrastructure maintenance. Contact us and our experts will help you implement a VMware ESXi solution that is suitable for your needs and requirements.
Hosting
All services in one place: website, domain, and email. Secure and professional. We offer VPS servers, dedicated servers, application servers, Linux server administration, server migration, and SPF and DKIM support. Plus, we provide anti-DDoS solutions.
Consultations
We offer professional IT consultations for businesses and private individuals. Our experienced specialists will help you solve problems related to information technology and provide support in areas such as software, computer networks, IT security, and much more. Within our services, we offer an individual approach to each client. Contact us and our experts will help you solve IT issues and provide full technical support for your company.
Backup systems and NAS
We offer advanced backup and data storage solutions. Our backup systems allow for automatic and regular backups of data, ensuring protection against hardware failures or unforeseen situations. Our Network Attached Storage (NAS) solutions allow for central data storage and sharing, facilitating work and access to information. With our services, clients gain peace of mind and assurance that their data is secure and easily accessible. Contact us and our experts will assist you in selecting and implementing the best backup solution or NAS system for your business.
Monitoring and access control systems.
In our company, we specialize in designing and installing comprehensive IP monitoring systems, video intercoms, and access control. We collaborate with leading manufacturers on the market such as HIKVISION, EZVIZ, and Roger to provide our customers with the highest quality and reliability of solutions. Thanks to our IP monitoring systems, you can monitor your business or home in real-time and record camera images, providing security for your property. Video intercom systems allow for easy and quick communication with guests before entering the building, increasing the sense of security and control over access to your home or business. Access control systems allow for easy and quick management of access to the building, increasing security and control over access to important areas.
Licenses
We provide licenses for various types of software from global producers such as ESET, Microsoft, Adobe, and Mikrotik. Our clients have access to the latest software versions, including operating systems, office tools, graphic design applications and database management software. As partners of many global producers, we can offer our clients access to the latest and most advanced technologies which enable them to fully utilize the potential of their hardware and increase productivity. Our licensing offer is flexible and tailored to the individual needs of each client, ensuring optimal use of the software and full cost control. Contact us and our specialists will help you choose the right solutions for your company.
System integrations
We offer comprehensive services for system integration that will allow you to fully automate processes in your company. Our solutions will enable seamless collaboration between different systems, increasing productivity and reducing time and costs. Integrating IT systems such as ERP, CRM, and sales systems will facilitate easy and fast data processing, positively affecting the quality and speed of business decision-making. Our offer is flexible and tailored to the individual needs of each client. Contact us and our specialists will help you choose the right solutions for your company, allowing you to integrate systems and achieve the desired results.
Intelligent homes and buildings
Smart home installations are systems that allow for remote management of various functions in the household, such as lighting, heating, air conditioning, and even home appliances. These systems enable users to control their homes through smartphone or tablet applications, allowing for easy customization of household settings to meet their needs and preferences. We support systems such as HIKVISION, EZVIZ, Roger, SONOFF, and Tuya.
Data recovery
Did you lose important data due to a disk failure or other technical problem? Don't believe that your data is lost forever! Our company provides professional data recovery services, which allow us to restore lost or damaged data from various media, such as hard drives, USB drives, memory cards, and many others. Our skilled staff has the tools and knowledge necessary to recover even the data considered unrecoverable. We offer fast and reliable service, which will allow you to recover lost data without leaving your home. Contact us and we will restore your data!
Do you require other services related to Linux server administration?
Do you have any questions? Contact us! Our company always puts the needs and expectations of customers first.
Our team will prepare a solution, for every problem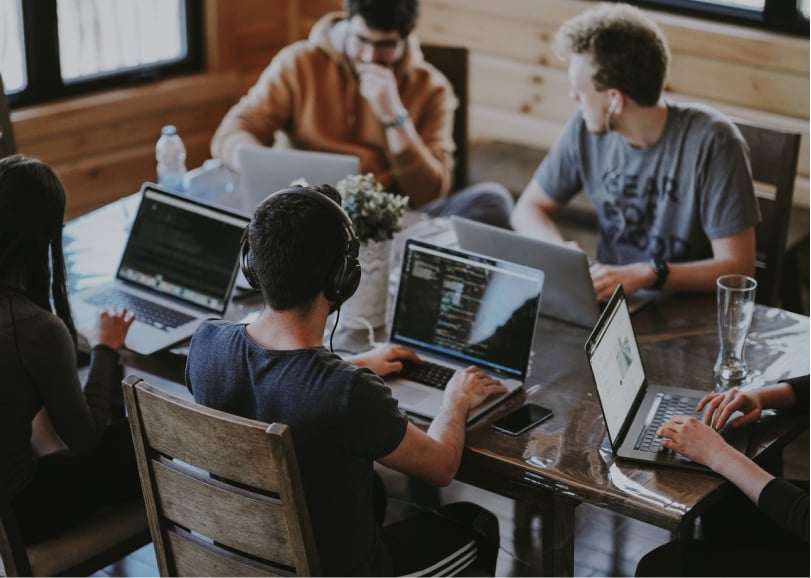 Backup restoration tests
If you do not periodically test your backups, they may be damaged!
Failure scenarios
You can protect yourself against the effects of failure. You need to have a proven plan
Do you have a project in mind? We can help!